Telly Savalas - Seine Filme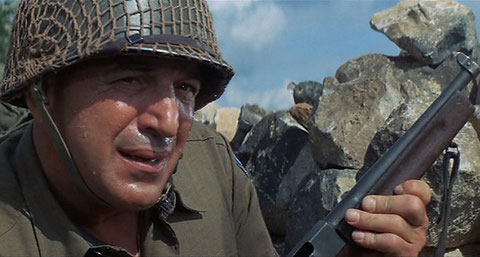 Stosstrupp Gold (Kellys Heroes)
Telly Savalas war nicht "nur" Kojak, sondern Telly spielte in unzähligen Top-Kino-Blockbustern mit: Das dreckige Dutzend, Kellys Heroes (Stosstrupp Gold), Der Gefangene von Alcatraz, Im Geheimdienst Ihrer Majestät (James Bond 007), Unternehmen Capricon, Brutale Stadt und viel mehr. Viele Filme erfreuen sich noch heute grösster Beliebtheit und sind einfach Kult.
Auf den nächsten Seiten gibt es eine Auswahl an ausgesuchten Filmen mit Telly Savalas. Die Liste wird laufend vergrössert.

Telly Savalas was nominated for an Academy Award for Best Supporting Actor for his performance in Birdman of Alcatraz (1962). His other movie credits include The Young Savages (1961), The Greatest Story Ever Told (1965), Battle of the Bulge (1965), The Dirty Dozen (1967), The Scalphunters (1968), supervillain Ernst Stavro Blofeld in the James Bond film On Her Majesty's Secret Service (1969), Kelly's Heroes (1970), Pretty Maids All in a Row (1971), Inside Out (1975), and Escape to Athena (1979).
Backfire!

(1995) .... Most Evil Man

Rose Against the Odds

(1995) (TV) .... George Parnassus

Mind Twister

(1994) .... Richard Howland

"The Commish"

.... Tommy Collette (3 episodes, 1992-1993)
    -

Out of Business

(1993) TV episode .... Tommy Collette
    -

Family Business

(1993) TV episode .... Tommy Collette
    -

The Frame

(1992) TV episode .... Tommy Collette

"Schloß am Wörthersee, Ein"

.... Teddy (2 episodes, 1991-1993)
... aka Lakeside Hotel
    -

Teddy räumt auf

(1993) TV episode .... Teddy
    -

Ein Glatzkopf kommt selten allein

(1991) TV episode .... Teddy

Kojak: It's Always Something

(1990) (TV) ....

Inspector Theo Kojak

Kojak: Flowers for Matty

(1990) (TV) ....

Inspector Theo Kojak

Kojak: None So Blind

(1990) (TV) ....

Inspector Theo Kojak





The Hollywood Detective

(1989) (TV) .... Harry Bell

Kojak: Fatal Flaw

(1989) (TV) ....

Theo Kojak

Kojak: Ariana

(1989) (TV) ....

Kojak

Faceless

(1988) .... Terry Hallen
... aka Depredadores de la noche, Los (Spain)
... aka Prédateurs de la nuit, Les (France)

The Dirty Dozen: The Fatal Mission

(1988) (TV) .... Maj. Wright

"J.J. Starbuck"

(1 episode, 1987)
    -

Gold from the Rainbow

(1987) TV episode

"The Equalizer"

.... Brother Joseph Heiden (2 episodes, 1987)
    -

Blood & Wine: Part 1

(1987) TV episode .... Brother Joseph Heiden
    -

Blood & Wine: Part 2

(1987) TV episode .... Brother Joseph Heiden

Dirty Dozen: The Deadly Mission

(1987) (TV) ....

Maj. Wright

Kojak: The Price of Justice

(1987) (TV) ....

Kojak

GoBots: War of the Rock Lords

(1986) (voice) .... Magmar
... aka GoBots: Battle of the Rock Lords (USA: video title)

Alice in Wonderland

(1985) (TV) ....

The Cheshire Cat


... aka Alice Through the Looking Glass (USA: video title (second part title))

Kojak: The Belarus File

(1985) (TV) ....

Lieutenant Theo Kojak


... aka The Belarus File

"The Love Boat"

(2 episodes, 1985)
    -

Girl of the Midnight Sun/There'll Be Some Changes Made/Too Many Isaacs/Mr. Smith Goes to Stockholm: Part 1

(1985) TV episode
    -

Girl of the Midnight Sun/There'll Be Some Changes Made/Too Many Isaacs/Mr. Smith Goes to Stockholm: Part 2

(1985) TV episode

The Cartier Affair

(1984) (TV) .... Phil Drexler

Cannonball Run II

(1984) .... Hymie Kaplan

Fake-Out

(1982) .... Lt. Thurston
... aka Nevada Heat

My Palikari

(1982) (TV)
... aka Silent Rebellion (USA: video title)

"Tales of the Unexpected"

.... Joe Brisson (1 episode, 1981)
... aka Roald Dahl's Tales of the Unexpected
    -

Completely Foolproof

(1981) TV episode .... Joe Brisson

Hellinger's Law

(1981) (TV) .... Nick Hellinger

Alcatraz: The Whole Shocking Story

(1980) (TV) .... Cretzer
... aka Alcatraz and Clarence Carnes



"The French Atlantic Affair"

(1979) (mini) TV mini-series .... Father Craig Dunleavy

The Muppet Movie

(1979) .... El Sleezo Tough

Beyond the Poseidon Adventure

(1979) ....

Captain Stefan Svevo

Escape to Athena

(1979) .... Zeno

The Border

(1979) .... Frank Cooper
... aka Border Cop
... aka Border Patrol USA (Philippines: English title)
... aka The Blood Barrier (USA)

Capricorn One

(1978) ....

Albain

"Kojak"

.... Lt. Theo Kojak / ... (118 episodes, 1973-1978)
    -

In Full Command

(1978) TV episode .... Lt. Theo Kojak
    -

Sixty Miles to Hell

(1978) TV episode .... Lt. Theo Kojak
    -

Photo Must Credit Joe Paxton

(1978) TV episode .... Lt. Theo Kojak
    -

May the Horse Be with You

(1978) TV episode .... Lt. Theo Kojak
    -

The Halls of Terror

(1978) TV episode .... Lt. Theo Kojak
      (

113 more

)

Beyond Reason

(1977) .... Dr. Nicholas Mati

Killer Force

(1976) .... Webb
... aka The Diamond Mercenaries (UK)

Inside Out

(1975) .... Harry Morgan
... aka Genialer Bluff, Ein (West Germany: TV title)
... aka Hitler's Gold
... aka The Golden Heist

Horror Express

(1973) .... Captain Kazan
... aka Pánico en el Transiberiano (Spain)
... aka Panic in the Trans-Siberian Train (International: English title)

She Cried Murder

(1973) (TV) .... Inspector Joe Brody

Casa dell'esorcismo, La

(1973) .... Leandro
... aka Diablo se lleva a los muertos, El (Spain)
... aka Diavolo e i morti, Il
... aka Lisa and the Devil (USA)
... aka Lisa e il diavolo (Italy)
... aka Teuflische, Der (West Germany)
... aka The Devil and the Dead
... aka The Devil in the House of Exorcism
... aka The House of Exorcism (USA: recut version)

The Marcus-Nelson Murders

(1973) (TV) ....

Lt. Theo Kojak


... aka Kojak: The Marcus-Nelson Murders (USA: recut version)

Senza ragione

(1973) .... Memphis
... aka Redneck

Ragione per vivere e una per morire, Una

(1972) .... Maj. Ward
... aka A Reason to Live, a Reason to Die (USA)
... aka Dicke und das Warzenschwein, Der (West Germany)
... aka Horde des salopards, La (France)
... aka Massacre at Fort Holman
... aka Razón para vivir y una para morir, Una (Spain)
... aka Sie verkaufen den Tod (West Germany)
... aka Une raison pour vivre, une raison pour mourir (France)

Pancho Villa

(1972) .... Pancho Villa
... aka Desafío de Pancho Villa, El (Spain)
... aka Vendetta (USA)

Visions...

(1972) (TV) .... Lt. Phil Keegan
... aka Visions of Death

Banda J.S.: Cronaca criminale del Far West, La

(1972) .... Sheriff Franciscus
... aka Bandera Bandits (USA)
... aka Bandits! (USA: video box title)
... aka Far West Story (UK)
... aka Hijos del día y de la noche, Los (Spain)
... aka J & S: Criminal Story of an Outlaw Couple (USA)
... aka Rote Sonne der Rache, Die (West Germany)
... aka Sonny and Jed

Assassino... è al telefono, L'

(1972) .... Ranko Drasovic
... aka Moordenaar aan de telefoon (Belgium: Flemish title)
... aka Scenes from a Murder
... aka The Killer Is on the Phone

Familiari delle vittime non saranno avvertiti, I

(1972) .... Don Vincenzo
... aka Crime Boss (USA)
... aka New Mafia Boss
... aka The Mafia Terminator (Australia: video title)

Mongo's Back in Town

(1971) (TV) .... Lieutenant Pete Tolstad

Clay Pigeon

(1971) .... Redford
... aka Trip to Kill (UK) (USA: video title)

A Town Called Hell

(1971) .... Don Carlos
... aka A Town Called Bastard
... aka Ciudad llamada Bastarda, Una (Spain)

Pretty Maids All in a Row

(1971) .... Captain Sam Surcher

Città violenta

(1970) .... Weber
... aka Violent City (UK) (USA)
... aka Cité de la violence, La (France)
... aka The Family (USA)

Kelly's Heroes

(1970) ....

MSgt. Big Joe


... aka Ratnici (Yugoslavia: Serbian title)



On Her Majesty's Secret Service

(1969) ....

Ernst Stavro Blofeld


... aka Ian Fleming's On Her Majesty's Secret Service (USA: complete title)
... aka O.H.M.S.S. (UK: promotional abbreviation)

Land Raiders

(1969) .... Vince Carden
... aka The Day of the Landgrabber

Crooks and Coronets

(1969) .... Herbie Haseler

Mackenna's Gold

(1969) .... Sgt. Tibbs

The Assassination Bureau

(1969) .... Lord Bostwick
... aka The Assassination Bureau Limited

Buona Sera, Mrs. Campbell

(1968) .... Walter Braddock

The Scalphunters

(1968) .... Jim Howie

Sol Madrid

(1968) .... Emil Dietrich
... aka The Heroin Gang (UK)

"Cimarron Strip"

.... Bear (1 episode, 1967)
    -

The Battleground

(1967) TV episode .... Bear

"Garrison's Gorillas"

.... Wheeler (1 episode, 1967)
    -

The Big Con

(1967) TV episode .... Wheeler

Cosa Nostra, Arch Enemy of the FBI

(1967) (TV) .... Ed Clementi

The Dirty Dozen

(1967) .... Archer Maggott

"Bob Hope Presents the Chrysler Theatre"

.... Mueller (1 episode, 1967)
... aka The Chrysler Theater
... aka Universal Star Time (syndication title)
    -

Don't Wait for Tomorrow

(1967) TV episode .... Mueller

"The Man from U.N.C.L.E."

.... Count Valeriano De Fanzini (2 episodes, 1967)
    -

The Five Daughters Affair: Part II

(1967) TV episode .... Count Valeriano De Fanzini
    -

The Five Daughters Affair: Part I

(1967) TV episode .... Count Valeriano De Fanzini

"The F.B.I."

.... Ed Clementi (2 episodes, 1967)
    -

The Executioners: Part 2

(1967) TV episode .... Ed Clementi
    -

The Executioners: Part 1

(1967) TV episode

"Combat!"

.... Colonel Kapsalis / ... (2 episodes, 1964-1967)
    -

Anniversary

(1967) TV episode .... Jon
    -

Vendetta

(1964) TV episode .... Colonel Kapsalis

Beau Geste

(1966) .... Sergeant Major Dagineau

"The Virginian"

.... 'Colonel' Bliss (1 episode, 1966)
... aka The Men from Shiloh (USA: new title)
    -

Men with Guns

(1966) TV episode .... 'Colonel' Bliss

"The Fugitive"

.... Dan Polichek / ... (3 episodes, 1964-1966)
    -

Stroke of Genius

(1966) TV episode .... Steve Keller
    -

May God Have Mercy

(1965) TV episode .... Victor Leonetti
    -

Where the Action Is

(1964) TV episode .... Dan Polichek

The Slender Thread

(1965) .... Dr. Joe Coburn

Battle of the Bulge

(1965) .... Sgt. Guffy

"Run for Your Life"

.... Istvan Zabor (1 episode, 1965)
    -

How to Sell Your Soul for Fun and Profit

(1965) TV episode .... Istvan Zabor

"Bonanza"

.... Charles Augustus Hackett (1 episode, 1965)
... aka Ponderosa (USA: rerun title)
    -

To Own the World

(1965) TV episode .... Charles Augustus Hackett

Genghis Khan

(1965) .... Shan
... aka Dschingis Khan (West Germany)
... aka Dzingis-Kan

John Goldfarb, Please Come Home

(1965) .... Macmuid (harem recruiter)

"Burke's Law"

.... Balakirov aka Richard Goldtooth / ... (3 episodes, 1963-1965)
... aka Amos Burke, Secret Agent (USA: new title)
    -

Who Killed the Man on the White Horse?

(1965) TV episode .... Balakirov aka Richard Goldtooth
    -

Who Killed His Royal Highness?

(1964) TV episode .... Charlie Prince
    -

Who Killed Purity Mather?

(1963) TV episode .... Fakir George O'Shea

The Greatest Story Ever Told

(1965) .... Pontius Pilate
... aka George Stevens Presents The Greatest Story Ever Told (USA: complete title)

"The Rogues"

.... General Hector Jesus Diaz (1 episode, 1964)
    -

Viva Diaz!

(1964) TV episode .... General Hector Jesus Diaz

The New Interns

(1964) .... Dr. Dominick 'Dom' Riccio

"Kraft Suspense Theatre"

.... Beret / ... (2 episodes, 1964)
    -

The Watchman

(1964) TV episode .... Roman Castillo
    -

The Action of the Tiger

(1964) TV episode .... Beret

"Breaking Point"

(1 episode, 1964)
    -

My Hands Are Clean

(1964) TV episode

"The Alfred Hitchcock Hour"

.... Philadelphia Harry (1 episode, 1964)
    -

A Matter of Murder

(1964) TV episode .... Philadelphia Harry

"Arrest and Trial"

.... Santo (1 episode, 1964)
    -

The Revenge of the Worm

(1964) TV episode .... Santo

"Channing"

.... Professor (1 episode, 1964)
... aka The Young and the Bold
    -

A Claim to Immortality

(1964) TV episode .... Professor

Fanfare for a Death Scene

(1964) (TV)

"The Twilight Zone"

.... Erich Streator (1 episode, 1963)
... aka The Twilight Zone: The Original Series (Australia)
... aka Twilight Zone (USA: new title)
    -

Living Doll

(1963) TV episode ....

Erich Streator

"77 Sunset Strip"

.... Brother Hendricksen (5 episodes, 1963)
    -

5: Part 5

(1963) TV episode .... Brother Hendricksen
    -

5: Part 4

(1963) TV episode .... Brother Hendricksen
    -

5: Part 3

(1963) TV episode .... Brother Hendricksen
    -

5: Part 2

(1963) TV episode .... Brother Hendricksen
    -

5: Part 1

(1963) TV episode .... Brother Hendricksen

Johnny Cool

(1963) .... Vincenzo 'Vince' Santangelo

"Grindl"

.... Mr. Hartman (1 episode, 1963)
    -

The Gruesome Basement

(1963) TV episode .... Mr. Hartman

Love Is a Ball

(1963) .... Dr. Christian Gump (Millie's uncle)
... aka All This and Money Too (UK)

The Man from the Diner's Club

(1963) .... Ronald 'Foots' Pulardos

"Empire"

.... Tibor (1 episode, 1963)
... aka Big G (UK)
    -

Arrow in the Sky

(1963) TV episode .... Tibor

"The Dakotas"

.... Jake Volet (1 episode, 1963)
    -

Reformation at Big Nose Butte

(1963) TV episode .... Jake Volet

"The Eleventh Hour"

.... Ben Cohen (1 episode, 1963)
    -

A Tumble from a High White House

(1963) TV episode .... Ben Cohen

"The Untouchables"

.... Leo Stazak / ... (4 episodes, 1960-1963)
    -

The Speculator

(1963) TV episode .... Leo Stazak
    -

The Matt Bass Scheme

(1961) TV episode .... Matt Bass
    -

The Antidote

(1961) TV episode .... Wally Baltzer
    -

Jack 'Legs' Diamond

(1960) TV episode (uncredited) .... NYC Detective

"Alcoa Premiere"

.... Mario Lombardi (1 episode, 1962)
    -

The Hands of Danofrio

(1962) TV episode .... Mario Lombardi

Convicts 4

(1962)
... aka Convicts Four (USA: alternative title)
... aka Reprieve

The Interns

(1962) .... Dr. Dominic Riccio

Birdman of Alcatraz

(1962) ....

Feto Gomez

Cape Fear

(1962) ....

Private Detective Charles Sievers

"Cain's Hundred"

.... Frank Neehan / ... (2 episodes, 1961-1962)
    -

Savage in Darkness

(1962) TV episode .... Harry Rennick
    -

In the Balance

(1961) TV episode .... Frank Neehan

"Ben Casey"

.... George Dempsey (1 episode, 1961)
    -

A Dark Night for Billy Harris

(1961) TV episode .... George Dempsey

"The Detectives Starring Robert Taylor"

.... Ben Willis (1 episode, 1961)
... aka Robert Taylor's Detectives (new title)
... aka The Detectives
... aka The Detectives, Starring Robert Taylor
    -

Escort

(1961) TV episode .... Ben Willis

"The Dick Powell Show"

.... Sergeant Marius (1 episode, 1961)
... aka The Dick Powell Theatre (USA: new title)
    -

Three Soldiers

(1961) TV episode .... Sergeant Marius

"The New Breed"

.... Dr. Buel Reed (1 episode, 1961)
    -

The Compulsion to Confess

(1961) TV episode .... Dr. Buel Reed

"King of Diamonds"

.... Jerry Larch / ... (2 episodes, 1961)
    -

The Wizard of Ice

(1961) TV episode .... Jerry Larch
    -

Stop Johnny King!

(????) TV episode .... Massis

The Young Savages

(1961) .... Police Lt. Gunderson

Mad Dog Coll

(1961) .... Lieutenant Dawson

"Acapulco"

.... Carver (8 episodes, 1961)
    -

Murder with Love

(1961) TV episode ....

Carver


    -

Blood Money

(1961) TV episode ....

Carver


    -

Death Is a Smiling Man

(1961) TV episode ....

Carver


    -

Fisher's Daughter

(1961) TV episode ....

Carver


    -

Carbon Copy Cat

(1961) TV episode ....

Carver


      (

3 more

)

"The Aquanauts"

.... Paul Price (1 episode, 1961)
... aka Malibu Run
    -

Stormy Weather

(1961) TV episode .... Paul Price

"The United States Steel Hour"

(1 episode, 1960)
... aka The U.S. Steel Hour (USA: alternative title)
    -

Operation North Star

(1960) TV episode

"Naked City"

.... Gabe Hody (1 episode, 1960)
    -

To Walk in Silence

(1960) TV episode .... Gabe Hody

"The Witness"

.... Lucky Luciano (2 episodes, 1960)
    -

Roger 'The Terrible' Touhy

(1960) TV episode
    -

Lucky Luciano

(1960) TV episode ....

Lucky Luciano

"Armstrong Circle Theatre"

.... Wisliceny (3 episodes, 1959-1960)
    -

Engineer of Death: The Eichmann Story

(1960) TV episode .... Wisliceny
    -

35 Rue Du Marche

(1959) TV episode
    -

And Bring Home a Baby

(1959) TV episode

"Diagnosis: Unknown"

.... Irish Tony Salivarro (1 episode, 1960)
    -

Gina, Gina

(1960) TV episode .... Irish Tony Salivarro



"Sunday Showcase"

.... Cotton (1 episode, 1959)
... aka NBC Sunday Showcase (USA: complete title)
    -

Murder and the Android

(1959) TV episode .... Cotton
Quelle: imd